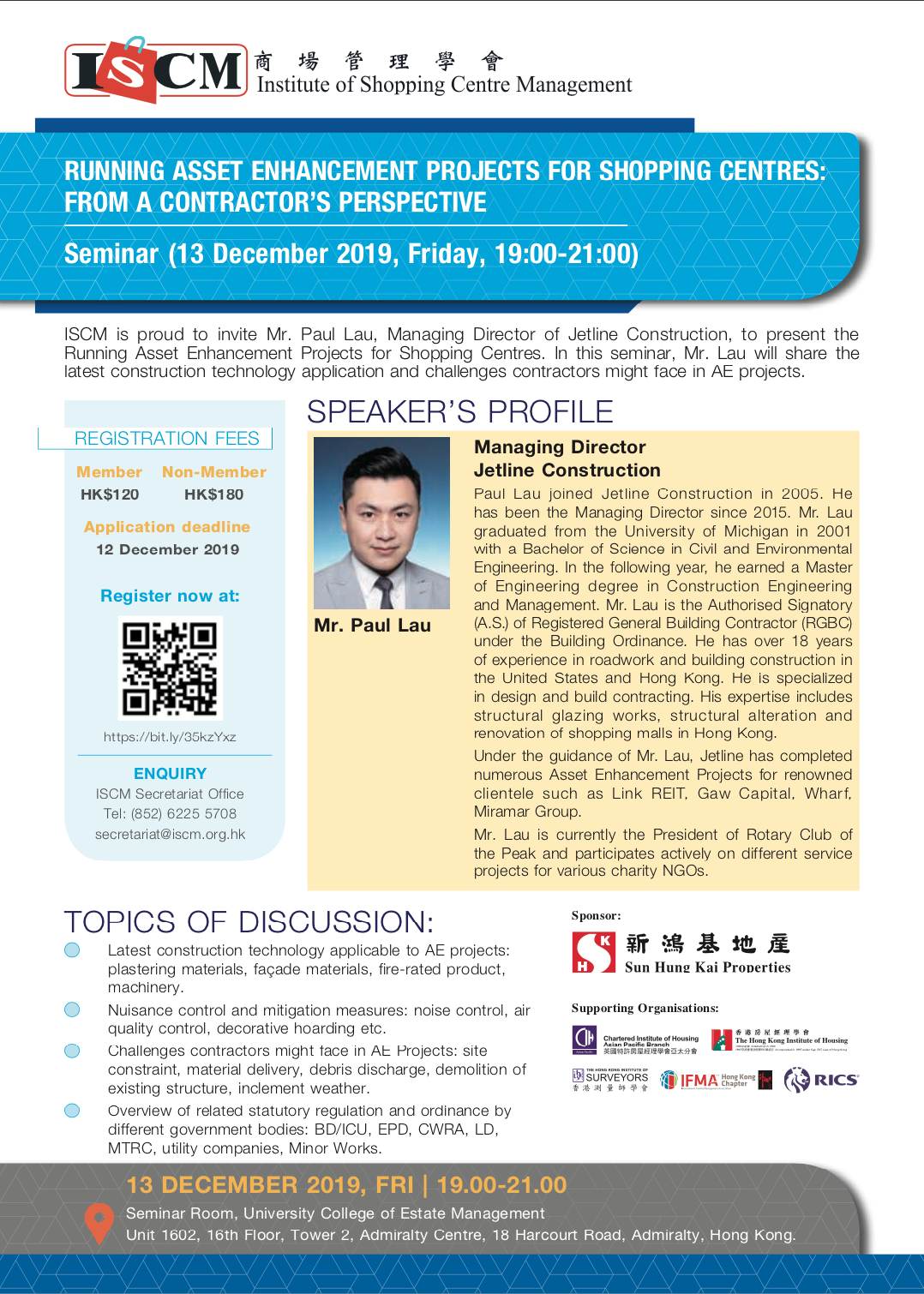 Running asset enhancement projects for shopping centres: from a contractor's perspective
ISCM is proundly to invite Mr. Paul Lau, Managing Director of Jetline Construction, to present the Running asset enhancement projects for shopping centres. This seminar will share of latest construction techonlogy application and the challenages contractors might face in AE projects.
Event details:

---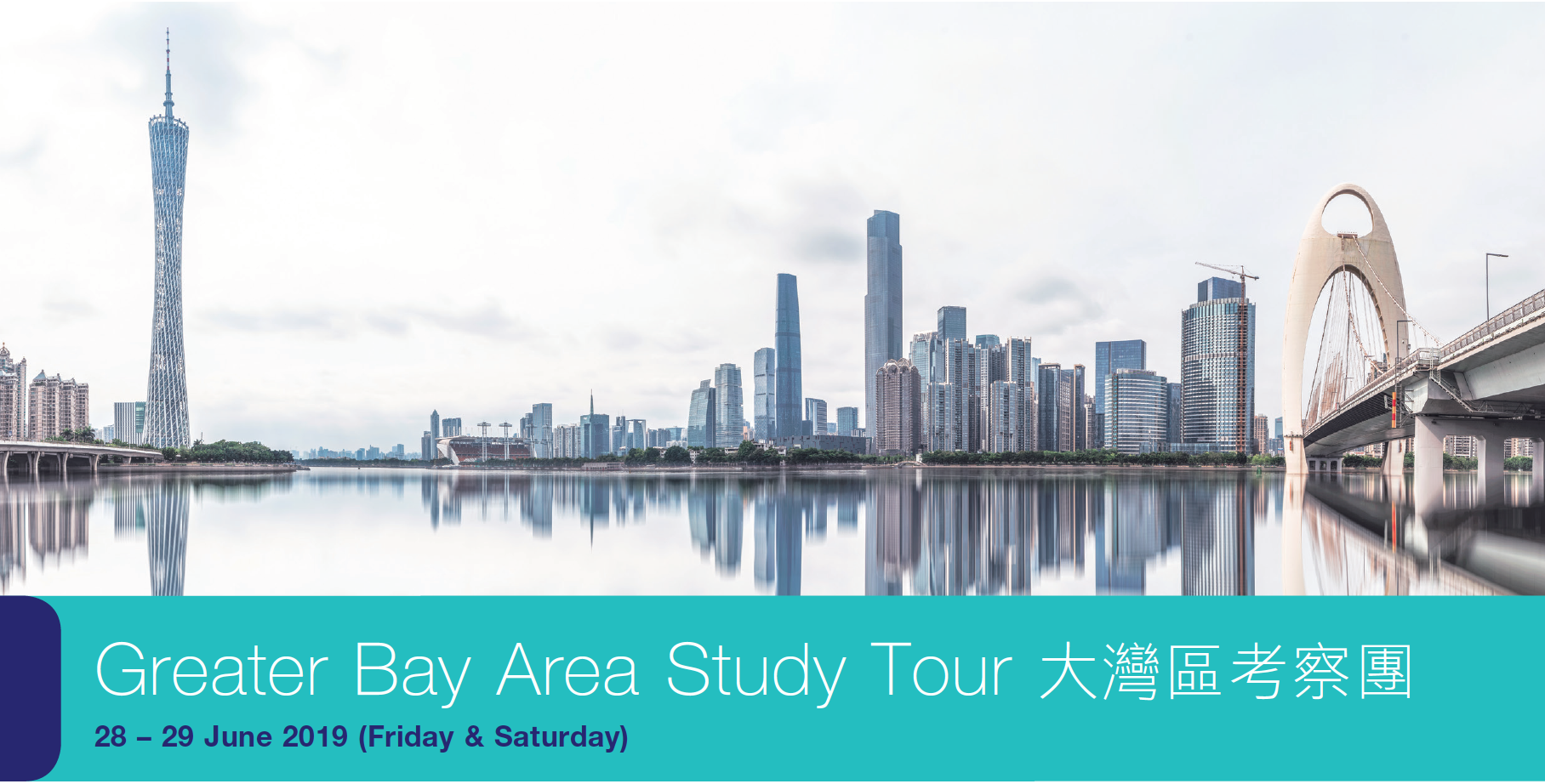 Greater Bay Area Study Tour
ISCM will organize a study tour to Greater Bay Area (Guangzhou, Zhuhai, Hengqin) from 28 to 29 June 2019, where participants will be given the opportunity to visit Taikoo Hui, Parc Central, Grandview Mall in Guangzhou, Huafa Commercial Plaza in Zhuhai, and the showsuite of Hengqin Free Trade Zone. Furthermore, participants can enjoy an enlivening bonding experience with peers. We trust this tour will bring you a unique travel experience that combines learning with travelling.
Event details:

---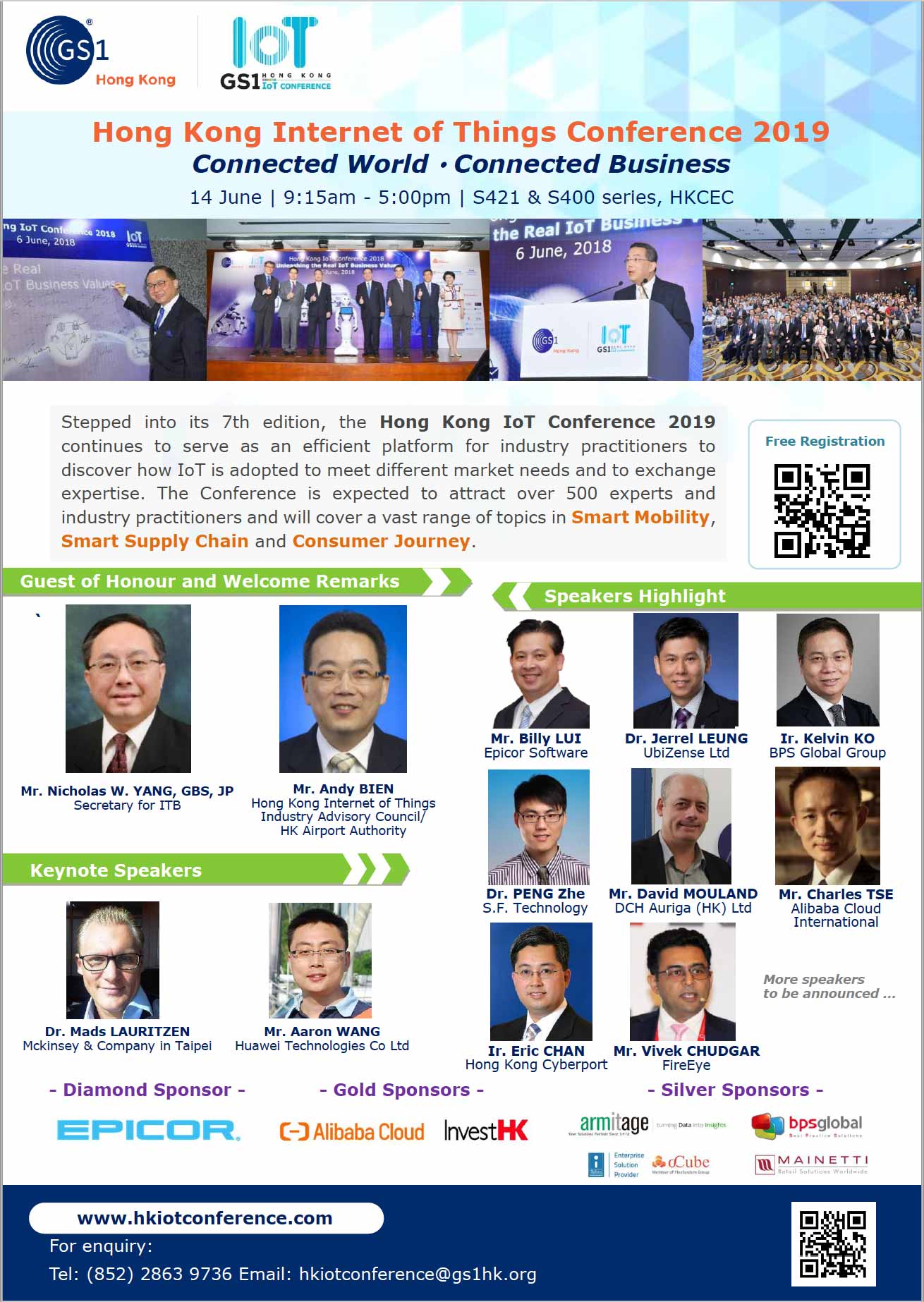 Hong Kong IoT Conference 2019
Stepped into its 7th edition, the Hong Kong IoT Conference 2019 continues to serve as an efficient platform for industry practitioners to discover how IoT is adopted to meet different market needs and to exchange expertise. The Conference is expected to attract over 500 experts and industry practitioners and will cover a vast range of topics in Smart Mobility, Smart Supply Chain and Consumer Journey.
Event Details

---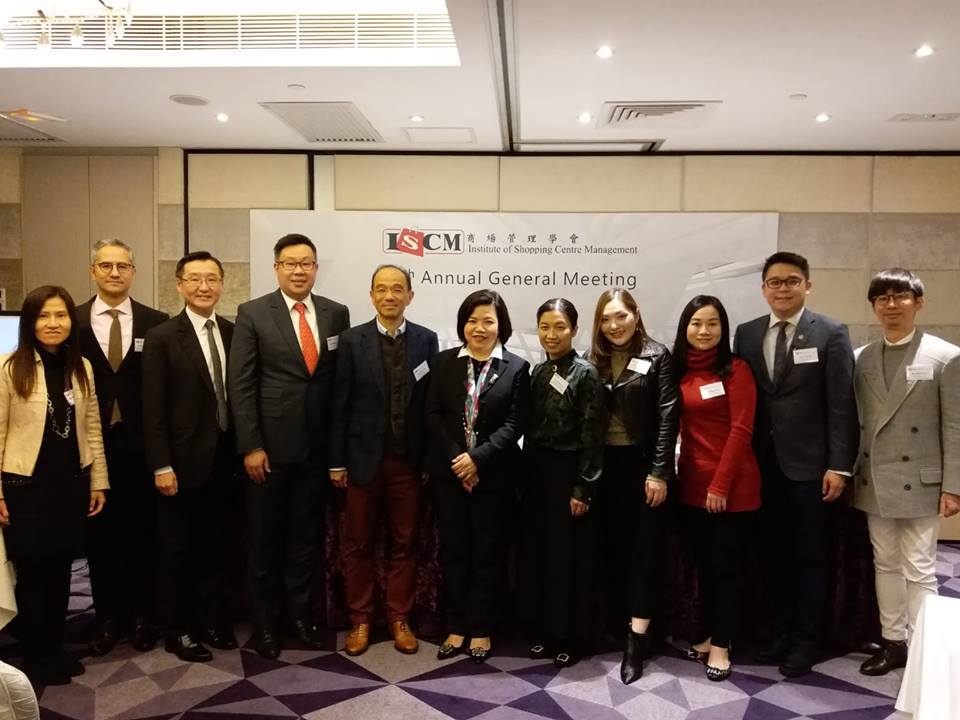 ISCM Annual General Meeting 2018
ISCM Annual General Meeting (AGM) was successfully held at the Victoria Harbour Supreme. We are incredibly honored to have Ms. Maureen Fung, our President and Founding Chairman; Dr. Roger Chan, our Honorable member, as well as other ISCM members to be a part of this remarkable occasion. Ms. Fung has expressed her sincere appreciation towards this year's board of directors and was very pleased to witness the rapid growth and development of ISCM. On behalf of the board of directors, ISCM's Chairman Mr. Baldwin Ko would like to express his gratitude to Ms. Fung for her words of wisdom and encouragement, which will definitely serve as a driving force for ISCM to better achieve its core vision and mission.
---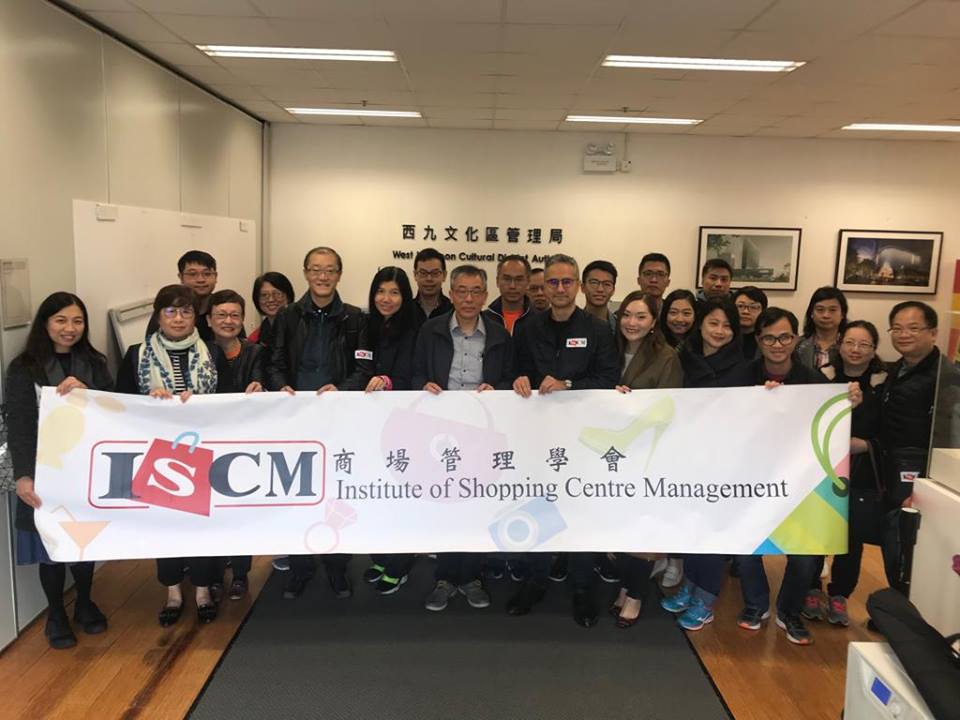 WKCD Study Tour
The WKCD Tour was a remarkable success! The tour enjoyed a full house attendance and we are glad to have Mr William Chan, the Chief Operating Officer of WKCD to give a detailed and insightful briefing on the tour. Moreover, we have paid a visit to the "Noguchi for Danh Vo: counterpoint" exhibition at M+ Pavillion, which was an eye-opening experience.
---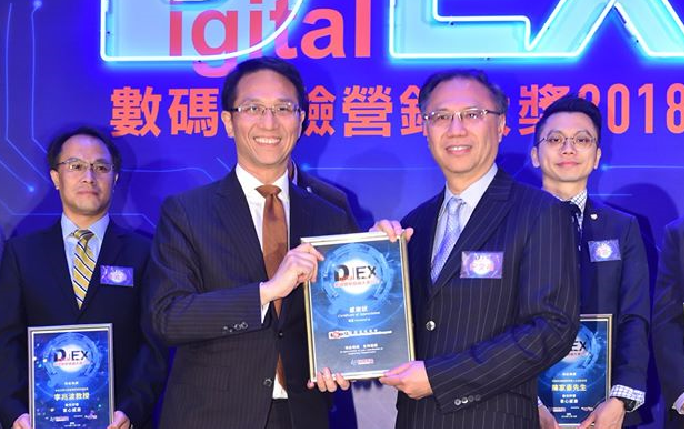 Digital Ex 2018 [19 November 2018]
ISCM is pleased to be one of the Supporting Organisations of the 'Digital Ex Awards' this year, an award celebrating Shopping Malls that promotes digital experience in Hong Kong. ISCM's Director of Training, Mr Louis Lee, was warmly invited to the Awards Presentation Ceremony held on 19 November at the Science Museum.
---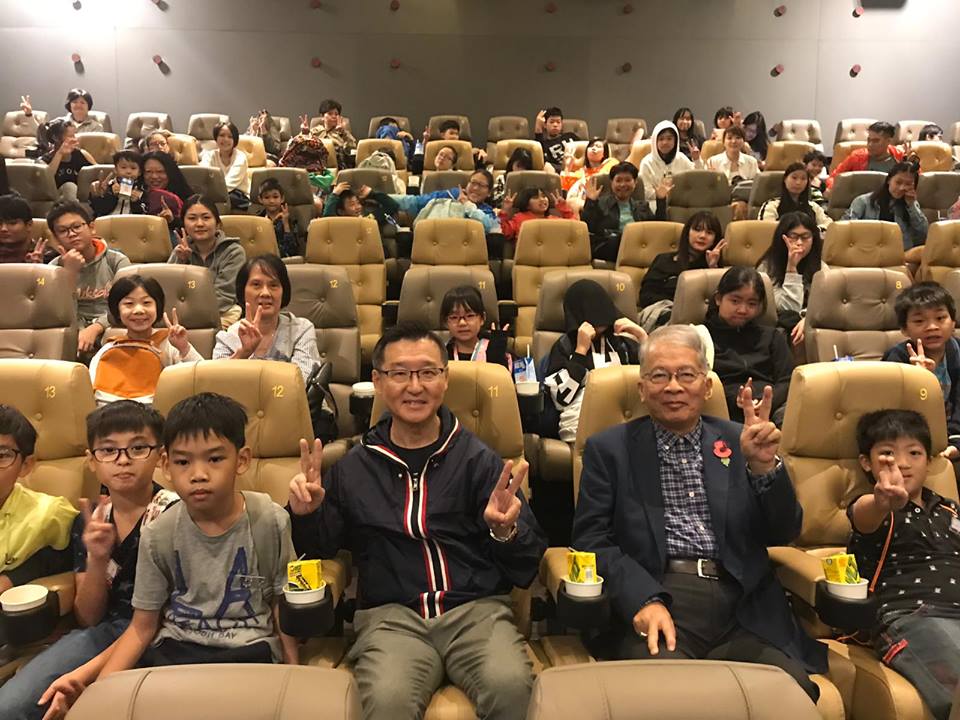 ISCM CSR Program - Charity Screening
CSR committee members of ISCM have gathered for a Charity Screening event to watch the movie Hotel Transylvania 3: Summer Vacation with children from St. Christopher Children Home, at Citiplaza Cinema. Special thanks to Broadway's generous sponsorship and your participation, this charity event has been a truly enjoyable and meaningful one.
---
Transit Oriented Development - Inception of Shopping Malls Seminar
The ISCM Seminar with the theme Inception of Shopping Malls was a great success. Courtesy to Ms. Sharon Liu, the Chief Town Planning Manager of MTR, we have gained invaluable insight into planning strategies and financial performance under the Transit Oriented Developments. Ms. Liu also shared the different possibilities involving TOD and innovative start-ups.
---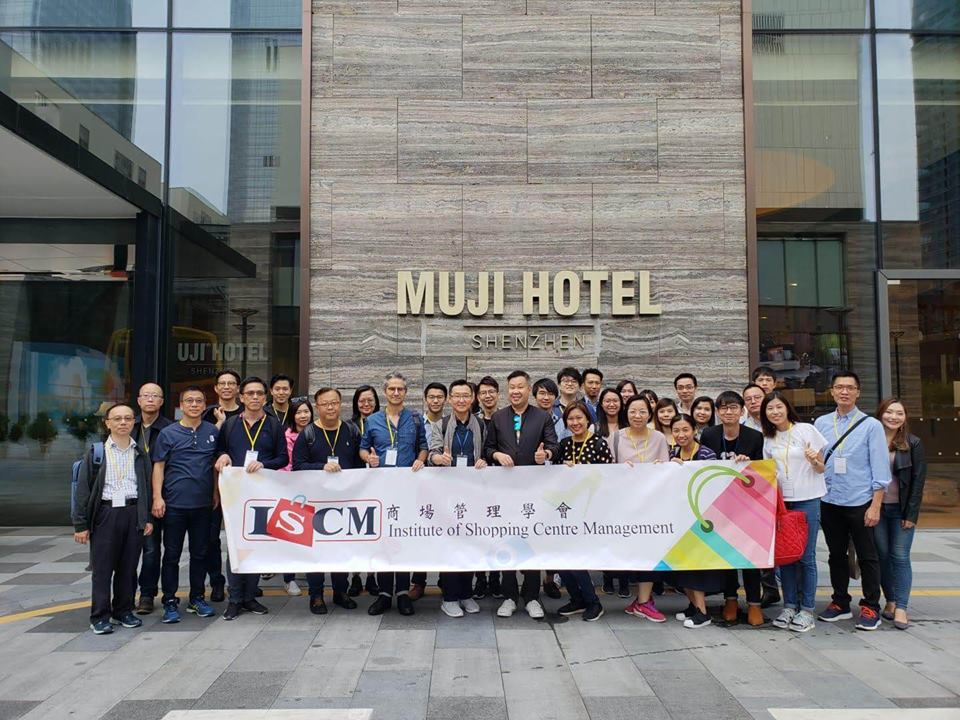 ShenZhen Study Tour
We are delighted to have a total of 39 attendees participating in the tour, where we visited popular shopping landmarks such as Uniwalk and Mixc World; and enjoyed a delicious meal at Grandma Restaurant. We hope the tour has been an eye-opening experience for you and we anticipate your participation in our upcoming events and seminars.
---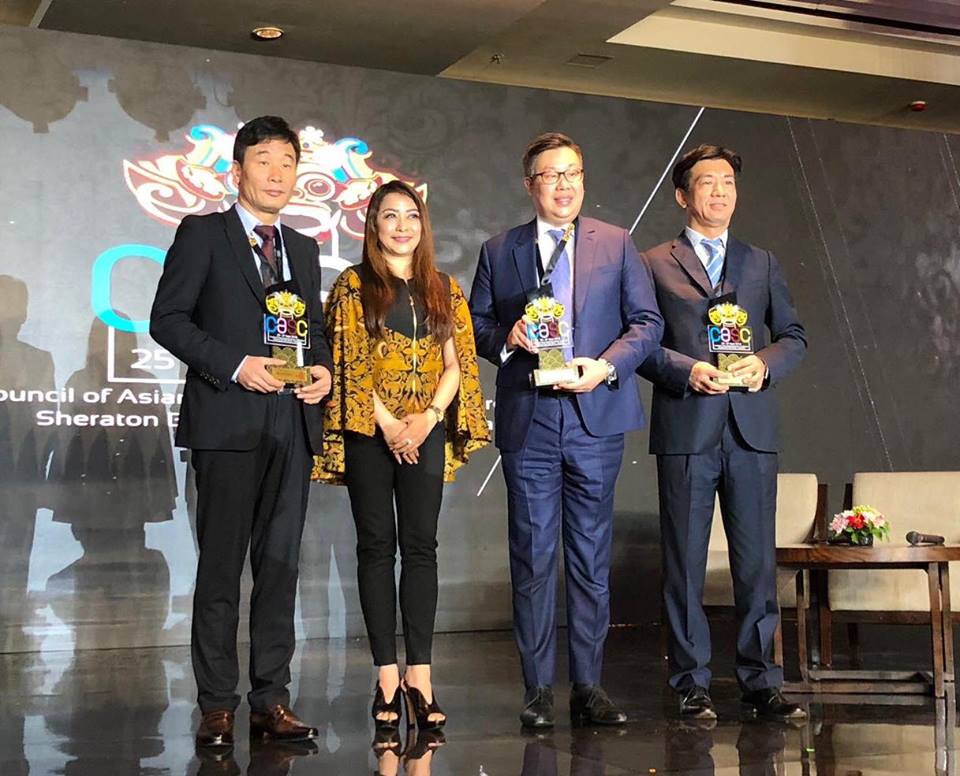 CASC Conference 2018 in Bali
We are incredibly honored to have Mr Baldwin Ko, Chairman of ISCM, to represent Hong Kong and share his insight on shopping malls management in the Council of Asian Shopping Centres (CASC) Conference held in Bali on 25-27 September. Mr Ko reported on the future possibilities of shopping malls in Hong Kong, and highlighted that Hong Kong will remain as the top destination for Chinese travelers over the next few years.
---
Digital Media and On Line Business Seminar
It was a great honour to have Mr. Larry Luk, the Chief Digital Officer of L'Oréal to share his valuable insight on digital marketing with us. Mr Luk showcased the unique strategies in promoting L'Oréal products through various media channels, and highlighted the importance of digital marketing in sustaining relationships with customers.
---
Tai Kwun Study Tour
Tai Kwun personalized tour was held on last Friday. Many thanks to Gary Ko and Kenneth Chiu for being our guided tours. To cultivate knowledge and appreciation for art and history, Tai Kwun provides a platform for Hong Kong artists to showcase their talent and develop their creativity. An enjoyable gathering was held at Madame Fu - Grand Café Chinois after the tour.
---
Young Entrepreneur Series III : Embracing Collaboration with Integrated Marketing Technology
Our Young Entrepreneur Seminar series were successfully concluded on 8 June 2018. We were incredibly grateful to have Mr. Andy Ann, Founder & CEO of NDN Group, for being our Seminar speaker and for sharing his valuable insights on how to gain business value from enterprise collaboration with integrated marketing technologies.
---
Young Entrepreneur Series II :Transformation of Wing On Department Store in the Digital Era
The 2nd series of Young Entrepreneur Series focus on the digital developments and transformations of Wing On Department Store. Many thanks to Mr. Gareth Kwok, Assistant General Manager, The Wing On Department Stores (Hong Kong) Limited, for providing us a first-hand insight on this topic.
---
Young Entrepreneur Series I: The Success Story of B.Duck and Its E-Commerce Experiences
The 1st series of the Young Entrepreneur Series kicked off in April 2018. With the insightful sharing from Mr Eddie Hui, Founder & MD of SMEK Products Limited, the audience have gained invaluable tips on starting an E-commerce business.
---